Become a Mentor!
We are looking for qualified and experienced dental practitioners and dental practices to become Trainers/Training Practices (September 2023 start) on our Dental Foundation, Dental Therapy Foundation Training schemes across Berkshire, Buckinghamshire, Hampshire and Isle of Wight, and Oxfordshire.
Dental Foundation Training is a programme designed to support newly qualified Dentists entering NHS Primary Dental Care for the first time and completion of the programme will result in the dentist being awarded a nationally (UK) recognised Certificate of Completion of Dental Foundation Training. Foundation Dentists are appointed to HEE approved training practices for a period of 12 months and are required to attend all the HEE weekly day-release educational programme, usually held on Thursdays.
Dental Foundation Training is entirely funded by the NHS. Trainees follow the UK Dental Foundation Training curriculum and are expected to complete regular assessments and a number of written and practical assignments. Trainers carry out direct observation (DOPS) of trainees and complete assessments and other exercises with the trainee and jointly record these in the e-Portfolio.
Interested? Join the on-line webinar with Kira Stearns, the Dental Therapist Training Programme Director. Register below.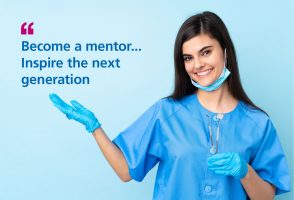 Thursday 30th March 2023 – online Webinar with Q&A Session
13:30 hrs
Dental Foundation Therapy Training
| | |
| --- | --- |
| 14th April 2023 | Applications Close 12:00 hrs |
| 20th April 2023 | Interviews – your interview date will be confirmed nearer the time |
APPLICATION INFORMATION
Trainer Application and all supporting documents for the 2023-2024 Foundation Training year are available to download here:
Please read all supporting documents prior to completing and submitting your application
Recruitment Flyer
2023-24 Foundation Therapy Information Guide for Educational Supervisors & Practices
2023-2024 Educational Supervisor Guidance
2023-2024 Educational Supervisor Person & Practice Specification
PG Certificate in Advanced & Specialist Healthcare (Dental Educational Practice) University of Kent
A list of documents that you may be required to provide to support your application:
1 2021-2022 BSA End of Year Activity Statement (latest) – mandatory supporting document
2 Clinical Supervisor's CV – if applicable
3 NHS England Practice Visit Report – if available
4 Self-assessment Declaration Form – mandatory supporting document
Completed Application forms and supporting documents should be emailed to England.Dental.SouthEast@nhs.net