We refer to people who contribute to public health in some way through their actions (even if they do not realise it) as the 'wider public health workforce'. In 2015, the Department of Health, HEE and PHE (now the Office for Health Improvement & Disparties) completed a review 'Understanding the wider public health workforce in England'. This review provides examples of the work of the public health workforce and considers possible professional development needs for strengthening it. It is estimated that 15 million people in over 170 occupations work in the wider public health workforce. Many people therefore can make a contribution to the health and wellbeing of others in their daily lives.
Community Participatory Action Research Training and Mentoring: Cohort 2
Applications for this cohort have now closed
This programme, in collaboration with the South East Office for Health Improvement and Disparities, will train and provide on-the-job learning and mentoring for up to 30 Community Researchers across the South East region. The findings of the research will be used to support key decision makers and commissioners at local and system levels in informing priorities and service development for our marginalised communities.
The focus of this year's cohort – programme will focus on the Cost-of-Living Crisis, exploring the inequalities faced by marginalised communities.
Who can apply?
Voluntary, community, faith and social enterprise organisations, NHS or local authorities can apply for this funded training programme.
How to apply? Please read the Guide to Application document before completing the Application. We encourage you to attend our Webinar or Q&A session (see details below) before submitting your application.
| | | |
| --- | --- | --- |
| Webinar | 20 March, 12:00 – 13:00 | View the recording |
| Q&A drop-in sessions | 28 March, 12:00 – 13:00 | Join on Teams |
| Q&A drop-in sessions | 5 April, 12:00 – 13:00 | Join on Teams |
The Webinar Recording from the 20th March can be viewed here
Slides from the webinar are available to view here
If you would like to discuss this programme or your application please email publichealthschools.se@hee.nhs.uk
Community Participatory Action Research – training and mentoring 2021-22
Throughout the COVID-19 pandemic, inequalities in health became magnified amongst people from Black, Asian and minority ethnic
communities. This Community Participatory Action Research (CPAR) training and mentoring project took on board recommendation 2 of the Public Health England Beyond the Data report by 'supporting community participatory research, in which researchers and community stakeholders engage as equal partners of the COVID-19. HEE Southeast and partners (OHID, NHSE/I and SCDC) provided training and mentoring for 40 researchers from ethnic minorities to develop their skills and knowledge to conduct research on the impact of Covid-19 amongst their communities.
The researchers produced reports of their work and presented at the Showcase Event 11-13 May 2022. Summaries of their research is downloadable as well as the external evaluation.
More information on the next cohort will be announced in the autumn of 2022.
Toolkit
Available to download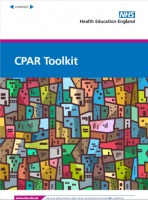 This toolkit contains a collection of documents to support organisations who wish to deliver a similar CPAR programme. Please note that this toolkit addresses the first cohort whereby HEE engaged organisations that participate in research with those from black, Asian and minority ethnic communities specifically with the research topic on the effect of COVID-19 on their communities.